What is an essay?
The term essay is today used to describe an array of written products; the word is used almost interchangeably with other terms like paper, article, or composition. But the essay is a particular form, which people have been writing since the late 16th century, when the genre was formally invented with the publishing of Michel de Montaigne's book titled Essais. This title roughly translates to, "an effort or trial," and describes a particular form of inductive, digressive writing. In WRD 515: The Essay, MA in WRD students explore the history of the essay, from its origins to contemporary renditions. 
WRD 515 is being taught this Winter 2018 quarter by WRD Department Chair and Professor Peter Vandenberg. Prof. Vandenberg has structured the course so that students may both explore the social, political, and historical contexts in which essayists negotiate the loose boundaries of the genre to meet their aesthetic and rhetorical needs. Students also practice their own essayistic writing in the course.
Are essays rhetoric?
In the scope of WRD 515 the essay is analyzed, not as a literary genre or as exclusively artistic, but rather as a writing practice that is rooted in social action and cultural production. Vandenberg explains, "Some genres operate at a level so vast that they don't function like an instruction set, but if we do widen out, we see that genres seen as literary, like the essay, also persuade people's actions and values. They engage in these ideological moves that structure people and society in discursive, rhetorical ways." This analytical perspective of the course fulfills a Rhetoric and Discourse requirement towards the MA in WRD. Students in both MA in WRD concentrations—Teaching Writing and Professional and Digital Writing—will find the work of the course relevant to their study and professional development.
What do you do in WRD 515?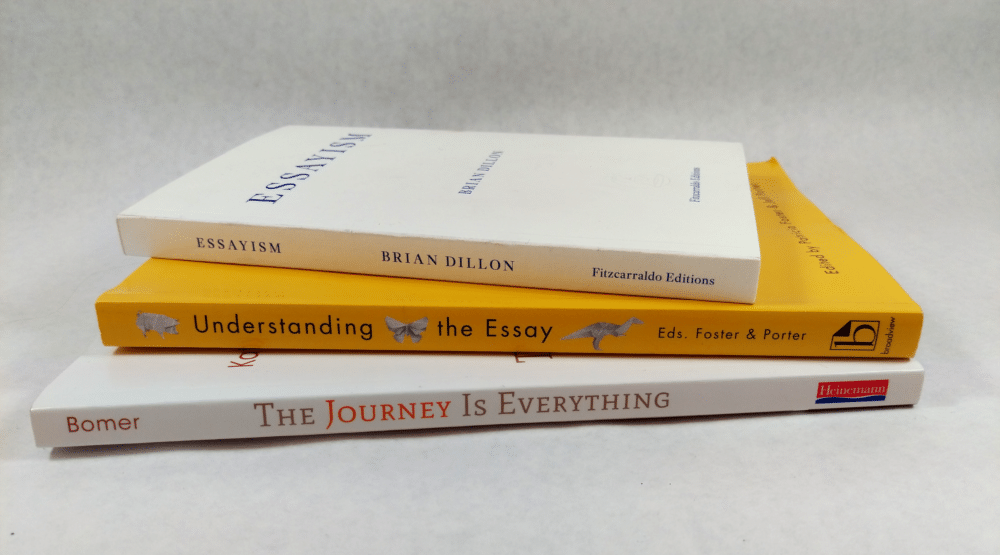 The readings for the course cover a range of diverse essayists—such as Montaigne, Cynthia Ozick, James Baldwin, and F. Scott Fitzgerald—while also showing the historical progression of the genre. The essay readings are supplemented with critiques from the book Understanding the Essay as well as scholarly articles regarding the theory and practice of essay writing and excerpts from The Journey is Everything and Essayism. Through these readings and in-class seminars, students develop a vocabulary and an understanding of what features and principles make up the practice of essay writing. They also learn ways to interpret, evaluate, and critique essays as both works of art and the work of cultural change.
In the latter half of the course, students put their understanding of essay writing into practice, producing at least one written essay of their own. For the final project, students have the option to produce a longer essay that can include multimedia elements, or an academic paper on a thesis relevant to the course.
Is it for me?
WRD 515 is a chance for students to apply rhetorical thinking to an elastic genre that is not bound so tightly by discrete contexts or very specific purposes. As Professor Vandenberg says, "The course can fit within the two WRD concentrations, but it also moves outside their range. There is an element of the personal in essay writing that generally need not crop up in teaching or in professional and digital writing."
WRD 515 is an excellent opportunity for MA in WRD students to engage with and produce texts that will both stretch their understanding of rhetoric and challenge them to grow as writers.