Until the mid-20th century, our understanding of rhetoric was dominated by the foundational theory of Greek thinkers, and focused mainly on a speaker addressing an audience for persuasive purposes. Out of this tradition, we find descriptions of rhetoric as something discrete and narrowly defined: Cicero calls it "speech designed to persuade" and Quintilian says that rhetoric is "a good man speaking well."  However, during the cultural turn in the 1960s and 1970s rhetorical scholars took an interest in the work that rhetoric does in the everyday and in the world at large—and started to think, not in terms of a rhetoric, but of many different rhetorics.
These differing notions of rhetoric that have developed over the last several decades are the object of study in WRD 505, Contemporary Rhetorics, which is currently being taught this Fall 2017 quarter by WRD Assistant Professor Jason Kalin. WRD 505 is a seminar-style course that introduces MA students to different rhetorical theories that engage rhetoric as a vibrant and adaptable capacity to think about social issues, human agency, and community.
WRD 505 fulfills a Rhetoric and Discourse degree requirement for the MA in WRD program. It allows MA students to critique and apply contemporary rhetorics so that they may better understand the nature of their work and their world as produced through rhetorical acts. The course shows rhetoric as not just something we teach in first-year writing classrooms, but as an open field of inquiry as it exists today, how it got here, and how it continues to develop. According to Kalin, "Rhetoric is a way of working through and creating publics—of making things matter—and it's something we're doing over and over again. It's something achieved by people coming together."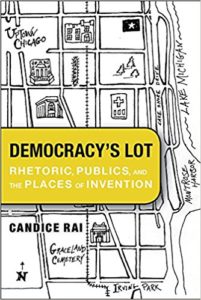 The course begins with readings that explain how rhetoric has expanded from specific situations and locations into ecologies of texts, actions and individuals who mutually perform rhetorical actions. Each week builds on this idea by focusing on different rhetorical theories—such as feminist rhetorics, material rhetorics, and digital rhetorics—and ties them to readings about how these rhetorics are working in practice. One prominent text is the book Democracy's Lot by Candice Rai, an ethnographic study of urban communities in Chicago, which examines how democratic discourse is used by the individuals in these communities to work through issues and enact change.
In order to engage with the texts more thoroughly, students are assigned bi-weekly reading responses, which are posted to a Contemporary Rhetorics publication on Medium. Students also write three case studies throughout the quarter, in which they use the framework of different rhetorical theories to examine a cultural issue or event of their choosing. These case studies help students to better see the rhetorical motivations and actions that manifest in contemporary society. In the current section of the course students have written about topics as diverse as Black Lives Matter protests and punk subculture.
Whether in the MA in WRD program or otherwise, WRD 505 introduces students to new rhetorical frameworks that help us understand how the way we communicate shapes the world.